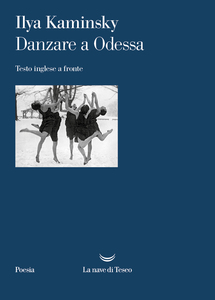 "Il mio segreto: all'età di quattro anni divenni sordo. Quando persi l'udito cominciai a vedere voci. Su un tram affollato un uomo con un braccio solo disse che la mia vita sarebbe stata misteriosamente legata alla storia del mio paese." Le poesie di questa raccolta – il pluripremiato esordio di Ilya Kaminsky, autore di Repubblica sorda – danzano tra i legami di una famiglia sconfinata, che si fa città, patria, appartenenza. Sentimenti domestici e miti letterari raccontano la storia, tenera e brutale, di un paese che cambia nome, più e più volte, mentre il mondo intero cambia intorno a lui. In mezzo, inscalfibile come le speranze più ostinate, l'amore che si impara nei baci rubati, negli abbracci che abbiamo perso, nei ricordi che ci fanno per sempre bambini.
"Danzare a Odessa è una delle scoperte più rare di questo e di qualsiasi altro secolo. Kaminsky è un autore che definisce cosa può essere la poesia." The New York Times
"Solo una volta ogni tanto, se sei molto fortunato, incontri un poeta i cui versi sono magici, così pieni di musica e di immagini che entrano nella tua mente e vi si fissano, cambiando per sempre la tua percezione del mondo. Ilya Kaminsky è questo poeta." Wire
Book details
Publisher

Original text

Yes

Language

Publication date

Theme

Collection
About the author
Ilya Kaminsky
Ilya Kaminsky è nato nell'ex Unione Sovietica e ora è cittadino americano. È autore di una raccolta di poesie, Dancing in Odessa, e ha curato la Ecco Anthology of International Poetry. Ha ricevuto un Whiting Award, una Lannan Literary Fellowship e una Guggenheim Fellowship, ed è stato selezionato al Neustadt International Prize for Literature. Per Repubblica sorda ha vinto il National Jewish Book Award for Poetry e il Los Angeles Times Book Prize ed è stato finalista, tra gli altri, al National Book Award for Poetry, al PEN/Jean Stein Award, al National Book Critics Circle Award for Poetry, al T. S. Eliot Prize. Le sue opere sono tradotte in più di venti lingue.