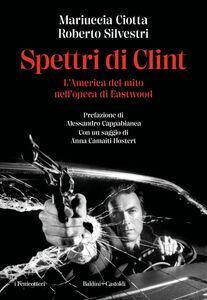 Messo all'indice per la violenza del suo personaggio nella serie dell'ispettore Callaghan, Clint Eastwood è stato celebrato dalla critica solo nel passaggio del secolo. Fenomenale davanti alla macchina da presa, nei panni del regista ha saputo misurarsi coraggiosamente con i grandi drammi della storia, senza aderire a estetiche alla moda. Il suo cinema, rivoluzionario sin dagli esordi con Sergio Leone, ha creato scompiglio nel patinato mondo di Hollywood, capovolgendo come un antieroe la leggenda del West e opponendole un altro volto, diviso tra furia selvaggia e sogno americano. Controcorrente per vocazione, ha riscritto il canone di thriller, spy-story, commedia, western e melodramma attraverso il lavoro della sua factory, la casa di produzione Malpaso, di cui protegge strenuamente l'indipendenza creativa. Nessuno più di Clint Eastwood ha indagato e sviscerato con tanto disincanto i miti e i conflitti dell'America, cantandone l'innocenza perduta e dissacrandone l'eroismo, la mascolinità, il razzismo. Parlare oggi di Eastwood è parlare di un mondo altro e sempre attuale: Mariuccia Ciotta e Roberto Silvestri ne ricostruiscono la figura a tutto tondo, tracciando una cartografia immaginaria ispirata a Mission Ranch, una sorta di Eastwoodland, dove il cineasta ha voluto ricreare un ambiente artistico perfetto, all'incrocio tra barbarie e civilizzazione.
Clint Eastwood si aggira come uno spettro senza riposo sulle macerie di un'innocenza perduta. Forse l'angelo dell'Apocalisse non viene dal cielo, ma è appena uscito dal fango.
Ogni spettatore di Ispettore Callaghan: il caso Scorpio è tuo! entrava in sala con uno sguardo innocente. Un'innocenza che presto avremmo perso.
QUENTIN TARANTINO
Book details
Publisher

Original text

Yes

Language

Publication date

Theme

Collection
About the author
Mariuccia Ciotta
Mariuccia Ciotta, giornalista e critico cinematografico, autrice di programmi radiotelevisivi, ha scritto saggi e libri su autori e generi del grande schermo, e diretto il quotidiano «il manifesto». Tra le sue pubblicazioni: Da Hollywood a Cartoonia (1993); Un marziano in tv (2001); Rockpolitik: Adriano Celentano (2006); Cinema – il Ciotta-Silvestri (2012); Il film del secolo (2013), e per La nave di Teseo: Bambole perverse. Le ribelli che sconvolsero Hollywood (2018); Walt Disney. Prima stella a sinistra (2021).
Roberto Silvestri
Roberto Silvestri, giornalista e critico cinematografico, conduttore di Hollywood Party, ha pubblicato Macchine da presa. Il cinema verso il nuovo millennio (1996) e con Mariuccia Ciotta Da Hollywood a Cartoonia; Cinema – il Ciotta-Silvestri; Il film del secolo e Bambole perverse. Le ribelli che sconvolsero Hollywood. Tra i fondatori del cineclub Il Politecnico, ha diretto i festival di Lecce, Rimini, Bellaria, Aversa, Ca' Foscari, Sulmona e la collana «Illegal and wanted» per Raro Video. Ha ideato e diretto «Alias», settimanale culturale di «il manifesto».