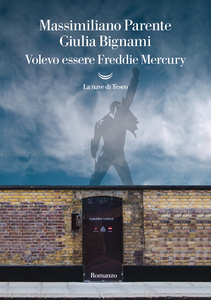 Cosa resta di uno scrittore una volta che ha scritto tutto ciò che voleva? Solo le vite dei personaggi dei suoi romanzi e una vita, la propria, a cui ha rinunciato per scrivere. E quindi un senso di vuoto, di fine, di inutilità. Ma può un'ossessione salvare una vita? Confidandosi con la sua migliore amica, quello stesso scrittore si immerge nella vita della star dei Queen, Freddie Mercury, che lo ha folgorato fin dall'infanzia, prima di dedicarsi alla scrittura. Il successo planetario della sua adorata rock star, il talento, il carisma, l'assenza di ideologie, la vitalità di Mercury gli sembrano immediatamente molto più importanti di qualsiasi invenzione letteraria. Così, lo scrittore medita di comporre un ultimo romanzo, incoraggiato dal suo editore. Più si addentra nel mondo di Mercury, più la personalità del cantante continua a sfuggirgli, più si documenta su di lui e più gli sembra irraggiungibile; ma lo scrittore ora è disposto a tutto: anche a trasformarsi completamente nell'oggetto dei suoi desideri. Tra equivoci e incontri con sgangherati personaggi, Volevo essere Freddie Mercury è un romanzo tragico ed esilarante al tempo stesso, con un protagonista che inventa un modo unico per trovare un senso alla propria vita: diventare, nel mondo reale, il romanzo di se stesso.
Book details
Publisher

Original text

Yes

Language

Publication date

With

Theme

Collection
About the author
Massimiliano Parente
Massimiliano Parente è nato a Grosseto nel 1970 e vive a Roma. Ha pubblicato i romanzi Incantata o no che fosse (1998), Mamma (2000), Canto della caduta (2003), La macinatrice (2005), Contronatura (2008), L'inumano (2012), Il più grande artista del mondo dopo Adolf Hitler (2014), L'amore ai tempi di Batman (2016), il saggio sulla Recherche di Marcel Proust L'evidenza della cosa terribile (2010), i pamphlet La casta dei radical chic (2010) e Il vero cafone. Ciò che non dovremmo fare e facciamo tutti (con Vittorio Feltri, 2016). Collabora con "Il Giornale".